Milgro launches an online dashboard for its customers. As of today, February 14, they will have access to their waste and raw materials reports and KPIs via Milgro's online environment 24 hours a day, 7 days a week. With this, Milgro offers a product that is inspired by the dashboard of a well-known energy supplier that can be found in many living rooms. With the difference that this dashboard provides insight into the performance of waste and raw materials.
Why a dashboard?
Milgro aims to support companies in achieving sustainable ambitions. Transparency is important here. And transparency starts with insight on, for example: what is our performance now, where can we improve and what are the goals we are working towards?
Your KPIs and performance in one overview
Milgro understands that it is sometimes difficult to keep an overview of all rules and data. That is why we offer a digital solution with this dashboard to see at a glance how your company is performing. From the overview page of the dashboard, you can click through to in-depth compliance, facility, procurement, finance or operation reports and dashboards.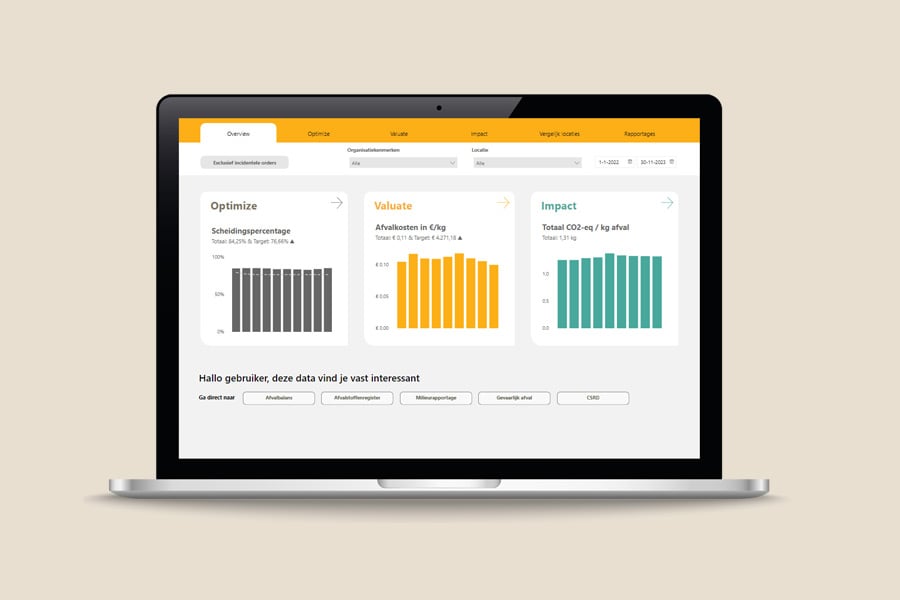 What does the dashboard mean for our clients?
From now on, every Milgro client has access to their own dashboard, linked to our online portal. It provides insight into goals and performance indicators in the field of waste, wastage and raw materials. This not only enables our clients to work more efficiently and save time. But they do also meet government requirements in the field of waste, and offers insight into progress on sustainability, so it enables our clients to be prepared for audits, checks and legislation such as the CSRD and CSDD.
Dashboard 1.0 will go live on February 14 for all our existing clients via Milgro's online portal. In the coming period, we will continue to develop functionalities and reports. Want to stay informed of the latest developments? Follow us on LinkedIn
Stay informed
Curious how it works? Book a complimentary demo.